---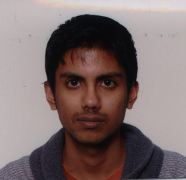 akshaiynarayanan@gmail.com

---
Brief on Akshaiy Narayanan!!
---
Employment
SAM Consultant, SAM Computer Systems Ltd., Auckland.
Work Experience
Worked as IT support staff, for healthAlliance NZ, Auckland.
Sales Consultant at Brand Developers Limited, Jan 2017 - Jan 2019
IT and Administration trainee, Simx Limited, July 2016 – November 2016
Kumon Instructor, Private Tutor, and Indian Bamboo flute Teacher during 2014 - 2016
Volunteering IT Staff for ACC Team, Auckland District Health Board, during 2012-2013
---
Education
Bachelor of Science degree in Computer Science from the University of Auckland, November 2015.
NZQA Level 5 Diploma in International Business from Auckland Institute of Studies, August 2015
Certificate in Management by New Zealand Institute of Management (NZIM) from from Open Polytechnic, April 2014
Certificate in TESOL (Teaching English to Speakers of Other Languages), April 2013
---
Academic/Technical Skills
Programming skills: C, C++, Core Java, C-sharp, Python, HTML, Latex
OS Environments: Windows 2000/XP/10, Unix
Database: MS SQL , MS Access
Tools: Visual studio , Eclipse IDE
Framework: Dot Net
---
Extra-Curricular Activities
President of the Maths Club in University of Auckland for one year, organizing and leading events and activities.
Treasurer of Maths club in the university responsible for tabulating financial statements and handling funds
Indian cultural group leader and class chairperson at High School
Volunteered for fund raising for National Kidney Foundation and Red Cross, cleaning and planting for Greenpeace and aid at Old folk's home and Salvation Army
Stage performer in Western and Indian classical music (flute and vocal) and English and Tamil plays, speech and debating competitions, sports and games team player
Librarian and did shelving, covering and issuing
---
Personal Details
Citizen of New Zealand and Overseas Citizen of India.
Personal Interests: Indian and Western Classical flautist and singer. Regular performer
Hobbies include sports mainly badminton, cricket and soccer, Games mainly chess, Travelling
---
Awards
Scholarship badge for excellence in academics in 2005 at Delhi Public International School, Singapore.
Three Certificates of Outstanding Academic Achievement for scoring A grades in Compsci111(An Introduction to Practical Computing), Compsci314(Modern Data Communications) and Compsci373(Computer Graphics and Image Processing) from the University of Auckland.
---
BSc Degree major Computer Science Courses
Principles of Programming
Principles of Computer Science
Mastering Cyberspace
Computer Systems 1
Computer Systems 2
Algorithms and Data Structures
Discrete Structures in Maths
Software Construction
Modern Data Communications
Distributed Objects, Services & Programming
Fundamentals of Database Systems
Computer Graphics & Image Processing
Programs videos
(1) Pasumaiyai Nokki
---