---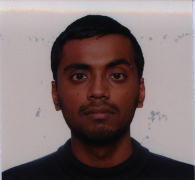 Brief on Aswin Narayanan!!

Email: hypo_dest@hotmail.com
---
Employment
Software Developer with Centre of Advanced Imaging, University of Queensland.
Work Experience
Computer Modeller/ Software Developer with Light Metals Research Centre (LMRC), from September 2011 to 2016. LMRC does technology development and consultancy work for the Aluminium smelting industry. Clients include plants across Europe, China, North America, Middle East and Australasia.
Asia OSS community server from Apr 2011 to Jun 2011
Deploying project management system and documentation
Auckland Bioengineering Institute during Feb 2011
Constructing high voltage control boxes for artificial muscle devices at the Biomimetics Department
Securimax Limited during Aug and Sep 2010
Testing and development of new ho e ventilation systems
Auckland Bioengineering Institute from Dec 2009 to Feb 2010
Modelling of Human Vocal Tract using Finite Element software Image processing, data analysis, scripting
CICC Singapore from Oct 2008 to Mar 2009
Developing demo of open source bioinformatics applications in the field of bioinformatics. Creating educational material for teaching Linux Systems for the Asia OSS workshop in Kuala Lumpur
---
Key Skills
Development and Deployment work on the following:
Web applications based on Servlets, Java, JSP, Perl, HTML, JavaScript
Business Reporting using Eclipse BIRT. Experience with Eclipse IDE
Deploying and configuring Apache and Apache Tomcat web-servers
PostgreSQL databases. Along with some MS SQL and IngresDB experience.
Project management systems used include Redmine, Producteev/Jira, dotProject
Software documentation and git version control experiance
Experience with Linux and Windows environments
Statistical Analysis using software tools including Minitab, Matlab and R
Finite Element Modelling using ANSYS, SIMULIA Abaqus and CMISS/CMGUI
Building digital circuits with graphical programming using National Instruments LabVIEW
Implementation of SPC, ODE, PDE, FD, FEM and image processing algorithms
Programming language experience includes Java, Perl, Python, C, C++, VB, MATLAB, R
Interested in: UI/UX design, mobile application development
---
Education
B.E. Hons in Biomedical Engineering from University of Auckland, Mar 2007 to Nov 2010.
Grade 6 Diploma from New Zealand Carnatic Music Society (NZCMS), July 2015.
---
Hobbies
Indian Classical Violinist. Regular performer at concerts.
Cycling and Rock climbing
---
Awards
Second Class First Division Honours in B.E. Entrance and Completion through accelerated Pathway.
'A' Grade in all A-level Subjects and position on Nonours Board at Cambridge International Examinations A levels at Auckland Grammar School. Awarded with NCEA Bursary scholarship for Calculus and Statistics
---
Personal
Citizen of New Zealand and Overseas Citizen of India.
---