---
Novena (Novem in Latin and navam in sanskirit) meaning Nine, is an act of religious prayers repeated for 9 days or 9 times (Roman custom).

Number 9, is the highest single digit number representing Mars and war and achieving the goal.
Yatra
Yatra - pilgrimage to sacred rivers and temples (Tirtha and Kshetra), to confrim "Same God exists everywhere".

Life is a journey like yatra, where end is same for all, but only path and experience along the path differs.

---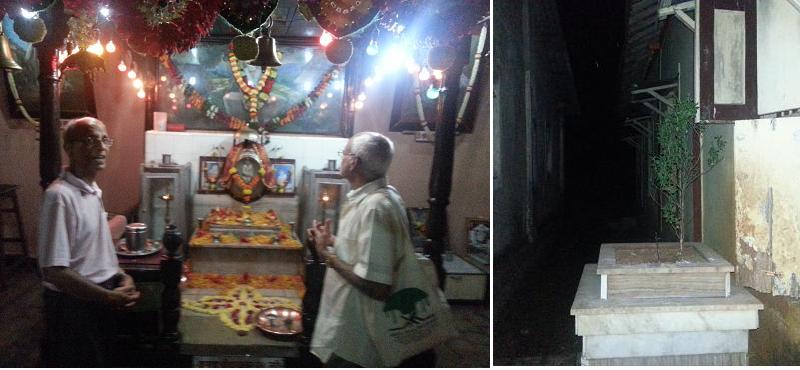 Bhivpuri
This is the first ever Shirdi Saibaba Temple built in the year 1916 at Bhivpuri by Sri.Keshav Ramachandra Pradhan when Baba was still alive. Baba gave Pradhan a Bas-relief image of himself and said "Erect a temple and install my Bas-relief image in it. Do not come back again for that is your Shirdi". Pradhan stopped going to Shirdi and constructed a temple next to his home and reports an instance, when Baba entered the temple and left afterwards. Saibaba was against rituals and idol worship and took avadhuta saint Dattatreya as role model. He was against building temples and statues around him.

---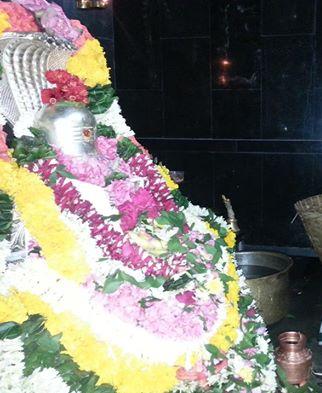 Pradosham at sankaramutt matunga
Sri Sankara Mattham is one of the oldest temples in mumbai , the main idol of this temple is the Shiva-lingam, and the Adi Sankaracharya idol. The highlight of Sri Sankara Mattham is Maha Pradosham and Suryanamskaram on Sundays.

---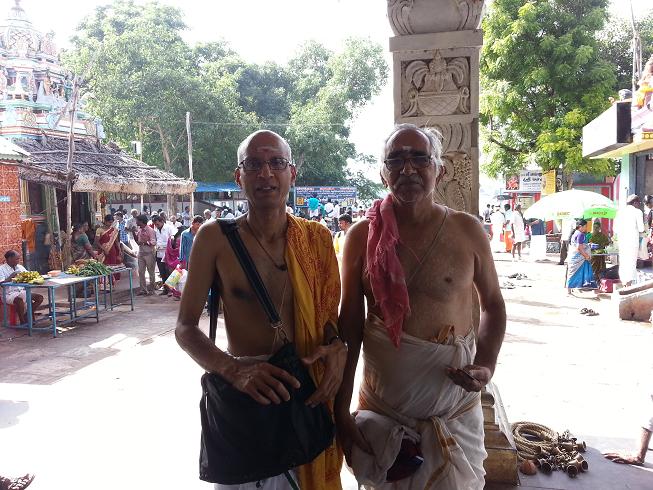 Around Trichy:
Cauvery
ஷட்ஷஷ்டி கோடி தீர்தாநி த்விஸப்த ப்ஹுவநேஷு ச.
கேஷவஸ்ய ஆஜ்நயா யாந்தி துலாமாஸே மருத்வ்ரிதாம் [Agni Puraanam]
ப்ராத:காலே துலாமாஸே ய: ஸநாயாத் ஸஹ்யஜாஜலே |
ஸர்வகர்மவிநிர்முக்தோ யாதி விஷ்ணோ: பரம் பதம் ||
Sixty-six crore Holy Waters in all the 14 worlds come to stay in Cauvery in the month of Tula. A bath in Cauvery during Tula month, a bath in Prayaag during Maagha month, and a dip in Setu during ardhodhayaa period are considered sacred and can help in liberation to the entire line of ancestors. A dip in cold water praying to Goddess Cauvery for removal of all sins and go to vishunu's paramapadam.

---

---


Viswaroopa seva at Sri Ranganathar Swamy Temple
The temple of Sri Ranganathaswami at Srirangam represents a civilization thousands of years old. The temple has been developed by Pallavas, Cholas, Pandyas and Hoysalas of Mysore. This temple is also known as Thiruvaranga Tirupati, Periyakoil, Bhoologa Vaikundam, and Bhogamandabam. For vaishnavas, the term "KOIL" signifies this temple only. This enormous temple complex is 156 acres with seven prakaras or enclosures and 21 magnificent towers. Legally, whole of Srirangam islet formed by the twin rivers Cauvery and Coleroon, is the property Lord Ranganatha, and only temple servants are allowed to stay and serve him.
The Lord who went to symbolic sleep the previous night, has to be woken up formally with the relevent mantras and formalities during viswaroopam. This is nomrally performed everyday between 6.0 to 7.30 am, when elephant, cow and horse all stand in front of moolavar to greet him. Lord hears the music of thiruppavai and other songs in Veena and in the end a request is made to him to shower his blessings on the devotees.
Apart from the presiding deity Lord Ranganathar, other Sannathis are: Thayar; Udayavar (Ramanujar); Garudalwar; Thanvanthiri; Hygrevar; and Chakkarathazwar.

---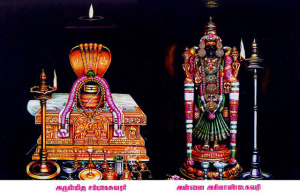 Jambukeswarar Temple
Thiruvanaikoil is a beautiful small urban village near Trichy city and adjacent to Srirangam. Thiruvanaikoil temple is one of the Panchabhoota Stalams (signifying the 5 natural elements) and represents water. The other four temples are Kalahasti for wind; Tiruvannamalai for fire; Kanchipuram for earth; and Chidambaram for space. One can see water oozing out near the Shivalinga idol in the temple. The goddess of this temple is 'Akilandeswari' (Akilam – Universe, Aanda – Ruler, Eswari – Goddess). to conduct her penance. Devi came to Jambu forest made a Lingam out of water of river Ponni (old name for cauvery) under the 'Venn Naaval' tree (Jambu) and commenced her worship. So, the Lingam is known as 'Appu Lingam' (Water Lingam). Indian sub continent is called Jambudvipe, because of Jambu trees.
Lord Siva at last gave darshan to Akilandeswari and taught her Siva Gnana. As Akilandeswari worshipped Lord Shiva in this temple, even today at noon the 'Archakar' (priest) dresses like a female and does noon Pooja to Lord Shiva and 'Ko Maatha' (Cow). For the purpose of this pooja the temple is growing a 'Karam Pasu' (complete black color cow). Annabhishekam to Lingam (Abishekam with cooked rice) is a popular ritual at Thiruvanaikoil.
Chola King "Ko Chengot Cholan" (also called as Chenkannan) constructed this temple in 1st Century B.C. Ko Chengot Chola had built 70 other Shiva temples all over Tamil Nadu and he is one among the 63 "Nayannmars". Thiruvanaikoil temple was built according to 'Saiva Aagama Sasthra', the temple reflects the human body and the idol of Lord Shiva is considered as the soul. Many other kings like Pandiyas and Nayakars of Madurai later renovated this temple.

---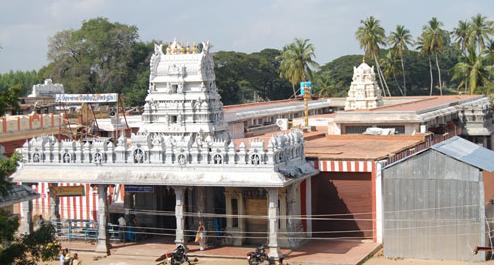 Gunaseelam Vishnu Temple
(Abhimana Sthalam) is a Hindu temple dedicated to Vishnu located 20 km (12 mi) from Trichy, in the South Indian state of Tamil Nadu. It is located on the banks of river Kollidam. The name of the place Gunaseelam derives from "Gunam" (meaning cure) and "Seelam" (meaning place), meaning the place in which illness is cured. "Gunam" also means qualities and "seelam" also means "Assuming a lower position". Hence Gunaseelam is the place where Vishnu comes down and addresses the devotees problems from his heavenly position.
Gunaseela Maharishi continued to offer his daily poojas to the lord Prasanna Venkatachalapathy, from his ashram here. Chola king Nyana Varma, developed this temple. The temple has a shrine for Viganasar, the founder of Vaikanasa Aagamam. Legend says he was given Brahminhood by Venkateshwara himself alongside Brahma, the god of creation. The temple has a shrine of Vikhasana Maharishi, after whom the Vaiganasa Agama of Vaishnavism is followed. Since Tirupathi Lord himself appeared before Gunaseela Maharishi, it is believed that those who are not able to go to Tirupathi can visit Gunaseelam. During the Uchikalam and Arthajamam, water is sprinkled on devotees, which is believed to expel evil diseases and mental diseases.

---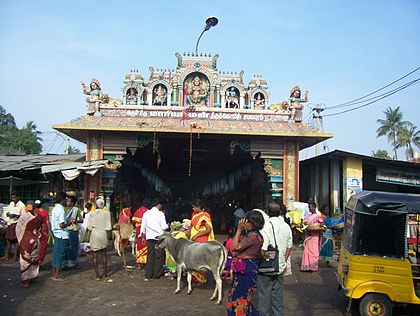 Samayapurathal or Mariamman
Made of sand and clay like many of the traditional Mariamman deities, "abishekam" is done to the small stone statue in front of it. It is believed that the Goddess has enormous powers over curing illnesses and hence, it is a ritual to buy small metallic replicas, made with silver or steel, of various body parts that need to be cured, and these are deposited in the donation box. Mother of all Mothers --- The Goddess Shiva Sakti, one can see the presiding deity from the entrance of the temple. Samayapuram is used as a model to describe rural folklore in a number of research works on sociology and religion.

---


Rock Fort Temple
The Rockfort, Dakshina kailasam, Oldest rock with a height of 273 feet and 417 steps to climb – itself is an object for worship (like kailas mountains). Caves and rock cut spaces are dwellings of ajvika or jain monks. Elephant symbol/form or ganesha at top represents highest state of Wisdom, in ajvika tradition. Before conversion to saivite temple (Thayumanavar and uchip pillayar), it was a ajvika/jain monastry or school. Palli means school, and Trichy was calld tiuchirappalli.

---


Sivaganga Temples:
Pillaiyar patti
Pillaiyar patti temple is an ancient rock-cut cave shrine dedicated to Ganesha, in Sivaganga district in the state of Tamil Nadu. The presiding deity of the temple is Karpaka Vinayakar or Desi Vinayaka Pillaiyar (the Lord of Wisdom – concept developed by Avvaiyar, the chittar) .Lord Vinayagar is carved out from the rock of the cave and there are rock cut images of other gods as well. The age of the cave temple is 2500 years or more. Vinayagar's trunk is curved at the right side (Valampuri Vinayagar) which is also a unique feature.

---


Thiruthalinathar Swamy Temple.(Vairavar/ Bairavar/Sivan)
Tiruppattur 27 km from Sivaganga is known for this Thiruthallinathar and Sivakami Sundariamman temple. The concept of Pranavam is said to have realized that Shiva & Pranavam were one and the same here, & is said to have manifested itself as the Konrai Maram. Goddess Mahalakshmi had a darshan of his Cosmic Dance known as Gowri Thandavam. This temple has got the royal patronage from the early Chola, Pandiya and Chera kings, and by the later period Pallavas.

---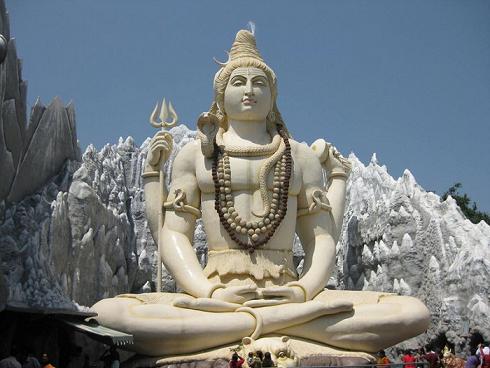 Bangalore
The magnificent 20 metres Idol of Lord Shiva in the open air of Kempfort Shiva Temple is portrayed in sitting posture, is one of the tallest statues of Shiva. It would come as a surprise for first time visitors that such a magnificent statue is hidden behind a large shopping mall. It has 12 jyothirlingas, char dhams, ganesha, subramanya, devi and navagraha. One can do abishekam, archana, mini homam and all.

---


Singapore Temples
Sri Darma Muneeswaran Temple
This temple has been in existence in Serangoon North for more than a century. Inside the temple there are statues of Dharma Muneeswaran (a form of Shiva), Vinayaka, Murugan, Mariyamman, Rama, Sita, Lakshmana, and Hanuman. The temple has the largest statue of naga in South East Asia and there are special pujas for the Kala Sarpa Dosha avoidance. The Navagraha sanctum is just behind the Naga statue.
There was special homam and other rituals during our visit, for inaugurating golden (kavacham) garment.

---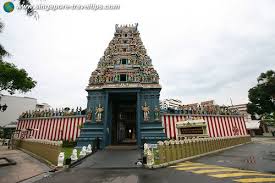 Sri Perumal Temple
One of the oldest and largest temples in Little India on Serangoon Road, where its tall Gopuram (tower) shows the different incarnations of Lord Vishnu. This large complex, dedicated to Vishnu, dates from 1855. It was gazetted as a national monument in 1978.

---


Kaliamman Temple
Sri Vadapathira Kaliamman Temple started in 1830 with Vinayakar, Murugan and Ambal. Part of the temple is another Ramar temple.
The Sri Veeramakaliamman Temple is dedicated to the Hindu goddess Kali, fierce embodiment of Shakti. Images of Kali within the temple show her wearing a garland of skulls and ripping out the insides of her victims, and Kali sharing more peaceful family moments with her sons Ganesha and Murugan. The building is constructed in the style of South Indian Tamil temples common in Tamil Nadu

---


Krishnan Temple
Sri Krishnan Temple on Waterloo Street established in 1870 is dedicated exclusively to Sri Krishna and his consort Rukmini. Sivaraman took over the temple in 1984 and soon began renovating the temple. As the temple is located very near to the Kwan Im Thong Hood Cho Temple, many Chinese devotees light joss sticks at the Sri Krishnan Temple as well. The temple's management therefore decided to build an altar dedicated to Guan Yin, the Goddess of Mercy within the temple's grounds.

---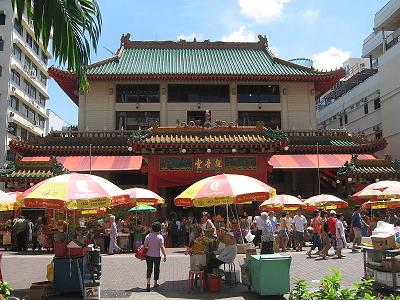 Kwan Im Thong Hood Cho Temple (观音堂佛祖庙)
A traditional Chinese temple believed to bring worshippers good luck after praying to the Kuan Yin (观音), or Avalokiteśvara, the bodhisattva associated with compassion. The temple has existed since 1884. All deities were enshrined on a single altar in the prayer hall with the elevated statue of Sakyamuni Buddha placed behind Kuan Yin.

---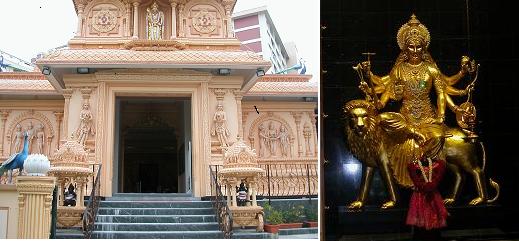 Sri Arulmigu Murugan Temple
Sri Arulmigu Murugan Temple in Jurong is dedicated to the Hindu god Murugan. Gold plated/covered durgai is a famous one. Other deities of the temple include Lord Murugan, Lord Vinayagar, Lord Shivan , Shree parvathi, Shri Idunbar and Navagrah.

---


Chinmaya Group
Chinmaya Seva Centre, 67 Tessensohn Road is the Study Group program. A group of 10 - 15 like-minded people get together at a place, time and day mutually agreed upon for 90 minutes a week for a systematic study of the scriptural texts. Setting aside blind beliefs, they analyze the scriptures in give-and-take discussions, deepening their personal understanding.
They do Vishnu Sahasranam Pooja during ekadasi, and other selected days. One such pooja during the visit, and photo session with management.

---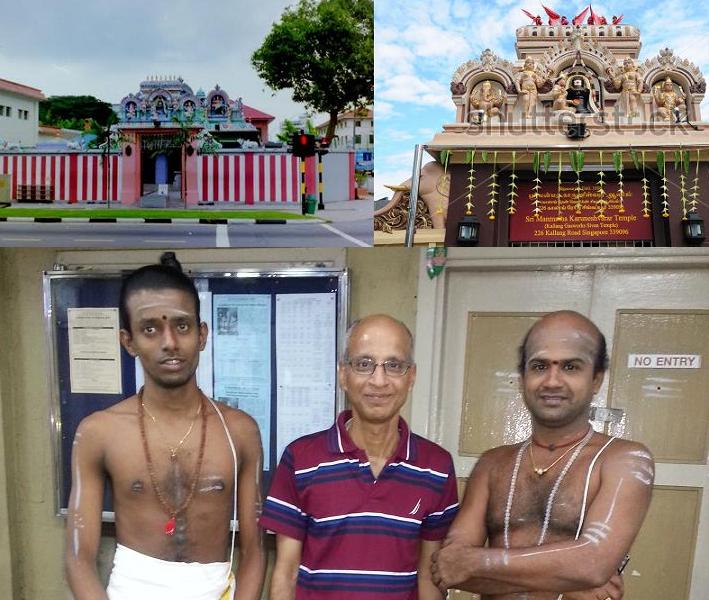 Manmatha Karuneshvarar Temple
Sri Manmatha Karuneshvarar Temple (ஸ்ரீ மன்மத கருநேஸ்வரர் கோவில்) is located on Kallang Road, established on 1 January 1888, known as the Kallang Gasworks Sivan Temple.
Lord Siva is the destroyer while his consort, Parvati, is looked upon as an almighty Mother figure that pleads to Lord Siva on the behalf of mankind and creatures. Lord Siva has five jobs creator, preserver, destroyer, hiding the sins and blessing.
Two priests in the photo performed special pooja and rituals, during pradosham time and moon entering Aswini constellation (nakshatra).

---

Back Home. Prayer at home altar, when moon was at tail end of Aswini constellation and Sun in Tula raasi.

Why Prayer?

Many times Prayer solves one's problems or shows the way to come out of that problem. It has offered many, the courage to withstand that problem.
Prayer is the easiest way to communicate with infinite power or energy source or THE ULTIMATE of everything
God knows what, when and how to do.
One may not get what asked, but certainly will get what needed.
Objective is not to lead a problem free life, but stress free life. Happiness and unhappiness; pleasure and pain; well health and ill health; prosperity and poverty; successes and failures; rising and falling; birth and death; and union and separation are all different shades of our life which every life form should accept.
A prayer full of belief is an antidote to a pain full of sorrow.
Believe - Trust - Have complete faith in God, then all your wounds will heal and pains shall go. But not in time framed by you but in time decided by GOD!
---
Thank you for reading
---